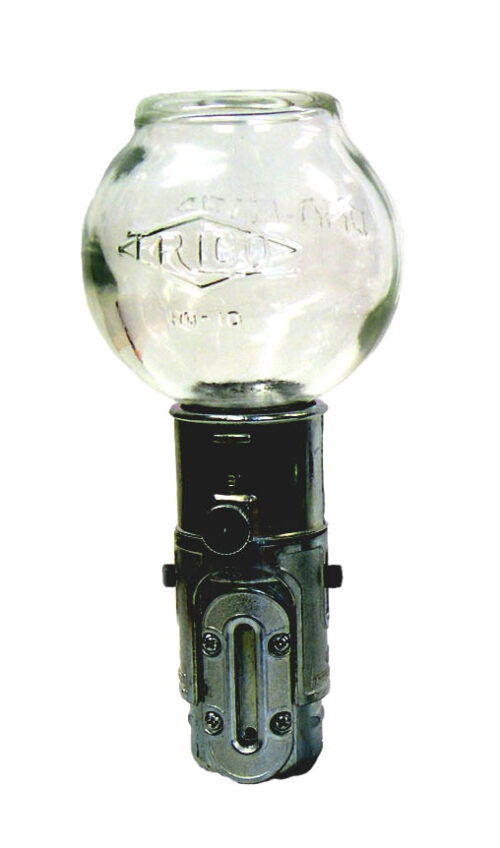 Products
Closed System Oilers
The Opto-Matic closed system oiler is designed for all types of Equipment where a constant level in an oil sump must be maintained. The closed system design
prevents contamination and spillage. The adjustable collar allows the oil level to be externally adjusted to the desired level. A port is provided for a vent line back to the housing to allow pressure balancing between the oiler and the housing.
Benefits:
One piece glass reservoir.
No possibility of air leakage that could cause overfilling of the housing.
2″ sight gauge for easy viewing of oil level.
Description
Technical info
| | | Dimensions (mm) | | | Connections | |
| --- | --- | --- | --- | --- | --- | --- |
| Part Number: | Volume | A | B | B max | Oil | Ventilation |
| 907335 | 118 cm³ | 68 | 180 | 200 | NPT 1/4" | NPT 1/8" |
| 907336 | 473 cm³ | 105 | 225 | 244 | NPT 1/4" | NPT 1/8" |
Metal wire guard Part Number: 907337-38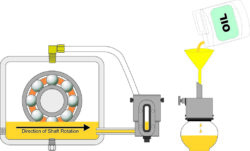 Mounting and replenishment
The Opto-Matic closed system oiler should be mounted on the oil sump so that the preferred oil level is in the middle of the sight glass. The upper connection should be connected to the air side of the oil sump. Please note that the Opto-Matic closed system oiler should be mounted so that the rotation of the shaft makes the oil flowing towards the connection. If connection is made on the opposite side, replenishment of oil will occur automatically when the oil level sinks below
the preferred level. This can cause too high a level in the oil sump. The method of replenishment of oil is shown in the sketch below. The reservoir should be installed in the correct position as quickly as possible and the oil level can then be adjusted. The adjusting collar is fixed with the two Allen screws.