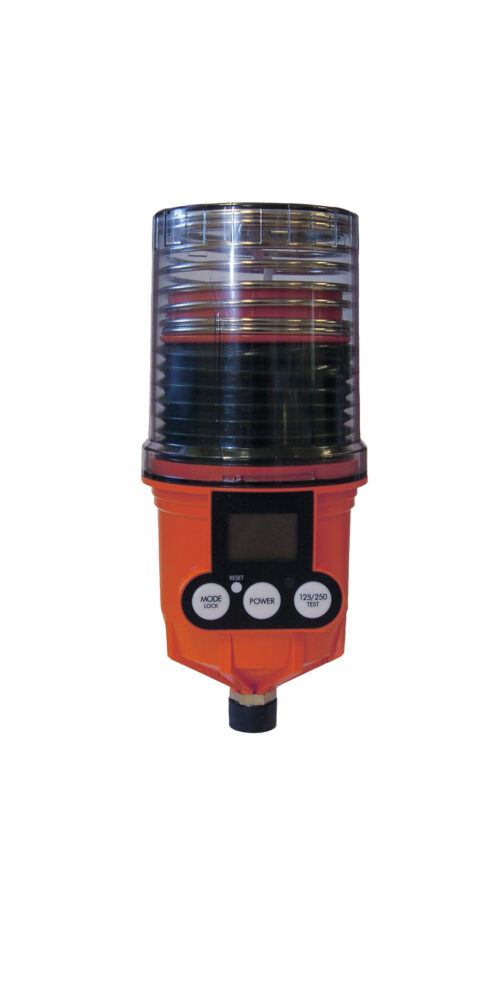 Products
Single point lubricator M, 250 cm3
art.nr: 907410
Weight excl. grease and battery: 1.07 kg
Description
Technical info
Single point lubricator model 250 M and 250 EX is one of the most sophisticated electro-mechanical SPLs. It is designed to ensure reliable lubrication and increase the availability of the equipment to be lubricated by utilising an advanced electronic control mechanism. It consists of a vertical feed pump, motor/gear set and microprocessor control system, which enable outstanding operating pressures to be achieved (20 bar, 280psi). The lubricant is supplied in a 250cc "Pulsarlube" grease reservoir and "Pulsarlube" battery pack, both of which are replaceable. By releasing the transparent housing, the battery and grease reservoir can be replaced. The Main Body comprises three buttons and a display. Here the discharge period can be set in six stages from ½ to 12 months. The lubricator can be stopped at any time, and the discharge period altered, the remaining time to the grease reservoir replenishment period could also be checked. The Service Pack comprises a grease-filled reservoir, a battery and a dust cover. The old battery and the empty container should be collected properly.
When replacing the grease reservoir it should be disposed of as combustible garbage. The lithium type battery can be disposed of along with ordinary batteries.
Adjustment guidlines – For ball/roller bearings
We recommend to verify the amount of grease with the manufacturer of the machine or bearing.
| Shaft diameter | | Dispense |
| --- | --- | --- |
| 121-305 mm | Half month | 16,6 cm³/day |
| 105-120 mm | 1 month | 8,3 cm³/day |
| 88-104 mm | 2 month | 4,2 cm³/day |
| 79-87 mm | 3 month | 2,8 cm³/day |
| 63-78 mm | 6 month | 1,4 cm³/day |
| 49-62 mm | 12 month | 0,7 cm³/day |
Operation
To turn the unit on depress the POWER button for 2 seconds.
Confirm that the LCD is turned on and that the red LED flashes.
In the test mode position depress the TEST button for 2 seconds, the "Test" icon should start flashing and an audible gear mesh sound will confirm the operation of the unit. Grease discharge should be observed during this test procedure. To de-activate TEST MODE, press the TEST button. The unit will cease functioning in test mode within 20 seconds. Alternatively the unit will automatically cancel test mode after 2 minutes and return to the previous setting.
Press MODE button to set dispensing period.
Scroll through the available dispensing rate settings. Eg. 1, 2, 3, 6, 12 or H (Half a month).
LCD Screen displays
Dispensing period set
Days since cycle completion (expiry)
Low battery power
Low grease level
Days remain until next cycle
Dispensing test mode
Excess backpressure
Grease volume selection