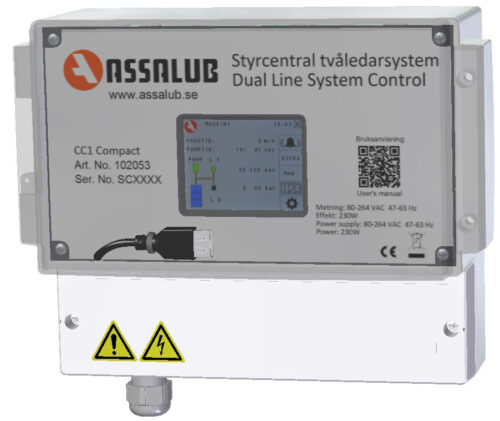 Products
CC1 Compact
art.nr: 102053
CC1 Compact is a slimmed version of CC1 Mk II with the same functions but with a smaller touch display. It's a control unit for controlling a dual-line system. It alarms when something goes wrong, like when pressure isn't reached in time, the lubricant reservoir is running low, there's too high resting pressure, or when there's a problem with the pressure transducer. If there's an USB memory installed it will store a complete register of all the lubrications and all the alarms.
The colour touch display presents the information in a clear and informative way. English, German, and Swedish are the languages available for the control unit.
Documentation
Description
Technical info
Functions
 Settable pump and pause periods
Pressure settings
All settings are password-protected
Extra lubrication
Manual operation
Control via the lubricated machine
Output for operation indicator
Output for alarms.
Issuing alarms when:
 The set pressure has not been reached during the pump period
There's a low level in the drum of lubricant
There's a short circuit in the pressure transducer
Receiving a pressure acknowledgement from the wrong line
There's too high resting pressure
Lubrication and alarm history is stored to an USB-memory
| | | |
| --- | --- | --- |
| Enclosure classification: | IP 65 | |
| Dimension: | 231x185x119 mm (WxHxD) | |
| Weight: | 1,3 kg | |
| Power supply: | 80-264 V AC, 47-63 Hz - 2 A at 115 V AC - 1 A at 230 V AC | |
| Primary fuse: | 2 A slow/250 V AC, break 1,500 A at 250 V AC | |
| Secondary fuse: | 5 A slow/250 V | |
| Outputs: | Max load | 80 VA resistive load |
| | | 100 W inductive load |
| | Alarm | Voltage-free change over contact |
| | Operation indication | Voltage-free change over contact |
| | Solenoid valves | Built-in power source 24 V DC |
| | | Total max 4 A |
| Setting range: | Pump time: | 1 - 9 999 seconds |
| | Pause time: | 1 - 9 999 minutes |
| | Pressure: | 1 - 250 bar |