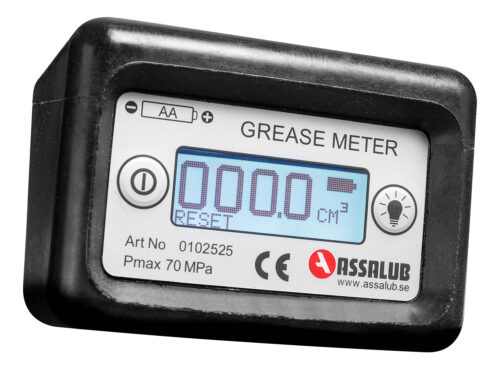 Products
Grease Meter
It is difficult to manually lubricate a bearing to the correct amount of grease using an ordinary grease gun, and with an electrically or pneumatically driven barrel pump it is almost impossible. As a result many bearings get to much grease which shorten life time and can lead to expensive breakdowns.
The Assalub grease meter works with most kinds of grease guns. Before you start lubricate you can reset the meter with the press of a button.
The meter displays the amount with large (9 mm) and easy to read numbers on a display with the unit (cm³, g, oz, or fl.oz.). Whatever measurement unit it's set for it can be calibrated to show a correct amount.
The grease meter have a resettable counter (for the total amount).
With the help of Assalubs Grease Meter it is now possible to lubricate just the right amount, using the bearing manufacturer's recommendations, to give the bearings a longer life while also saving up to 30% grease.
Instructions
Description
Technical data
| | |
| --- | --- |
| Material, housing: | Aluminium, anodized |
| Seals: | NBR |
| Working pressure: | Max 70 MPa/10 000 psi |
| Flow: | Max 1 000 cm³/min |
| Measuring accuracy: | ±3 % upp till 30 MPa (4 400 psi) |
| Height of digits: | 9 mm |
| Number of digits: | 4 |
| Battery: | 1 st AA (1,5 V) |
| Medium: | Fett upp till NLGI 2 |
| Weight: | 0,3 kg |
| Connections: | Inv. ISO-R1/8 |
| Part Number: | 0102525 |
| Connections: | Inv. 1/8-27 NPTF |
| --- | --- |
| Part Number: | 0102525-2 |
| Extra battery to grease meter (AA 1,5 V) | |
| --- | --- |
| Part Number: | 906395 |
| Extra battery to older version of grease meter (LR1) | |
| --- | --- |
| Part Number: | 904591 |
See the latest improvements video