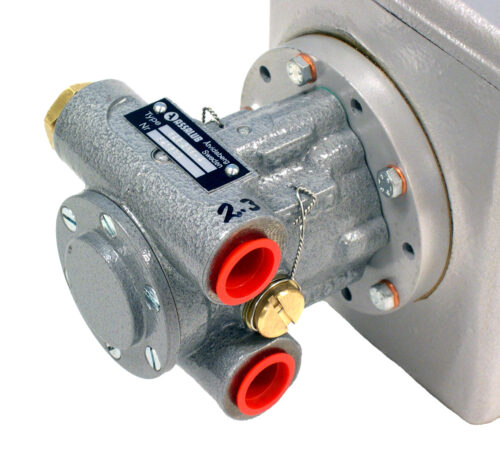 Products
Feed pump type MP-2
Feed pump, type MP-2, is an addition to our lubricator type B. It automatically keeps the oil level constant in the lubricator, reducing the need for supervision. The feed pump is mounted on the opposite side to the lubricator drive mechanism, and is driven by the lubricator's shaft through a gear. The pump is connected to a separate oil reservoir by two pipe lines, one supply line and one return line.
Description
Technical info
The feed pump ensures increased operation reliability. No risk of damaged bearings caused by lack of oil. No contamination of the oil as the replenishment is fully closed
The feed pump saves time! Supervision and maintenance of the lubrication system are minimal
The feed pump reduces the costs! Less wear and no risk of corrosion as the moving parts of the lubricator are always operating in oil.
| Feed pump without hand crank | Part Number: |
| --- | --- |
| Left hand operation | LB286-4-R |
| Left hand operation | LB286-4-L |
| Feed pump with hand crank | |
| --- | --- |
| Right hand operation | LB286-5-R |
| Left hand operation | LB286-5-L |
The connections of the feed pump are ISO-G 3/8". The following tube connections will suit:
| Tube connections, zinc-plated. incl. seal | Part Number: |
| --- | --- |
| For 12 mm tube | 3201242 |
| | 901062 |
| For 15 mm tube | 904012 |
| | 904094 |
| | 901062 |
| For 16 mm tube | 3201135 |
| | 904094 |
| | 901062 |