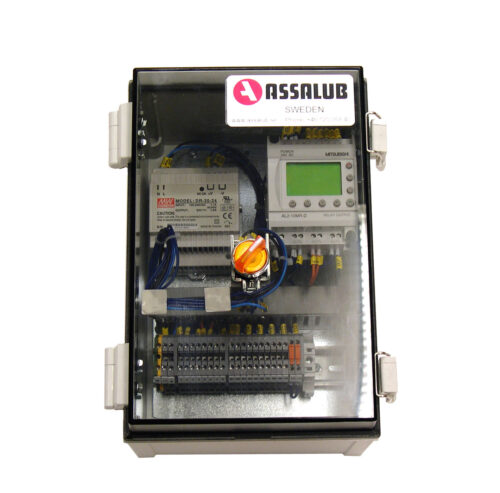 Products
Control unit CCS Alpha
art.nr: 907278
The control unit controls and monitors single-line lubrication systems. A pressure switch is connected to the control unit for monitoring of the pressure.
Documentation
Description
Technical info
Characteristics:
Adjustable pump and pause times.
Possibility of extra lubrication.
Machine interlock.
Output for operation indication.
Output for alarms – issuing alarms when the set pressure has not been achieved, when the level in the lubricant drum is low, or at short circuit in the pressure switch.
Counter for the number of lubrications.
Definitions:
Pause time: Time from pump stop to pump start.
Pressure operating time: The time from pump start until the set pressure is reached and the pump is stopped.
Pump time: Maximum pressure drive time before alarm is triggered.
Lubrication cycle: Time between lubrications, ie. pressure drive time and pause time.
| | | |
| --- | --- | --- |
| Protection class: | | IP65 |
| Dimension: | | 230x300x185 (BxHxD) mm |
| Supply voltage: | | 100-240 V AC |
| Current: | | 1,1 A |
| Outputs: | Pump: | 24 V DC max 8 W |
| | Pressure switch: | 24V DC max 20W |
| | Operation indication: | 24 V DC max 3 W |
| | Alarm output: | Potential-free closing contact max 250 V AC / 30 V DC 1A |
| Inputs: | 24 V DC | |
| Setting range: | Pumping time: | 1-32 767 s |
| | Pause time: | 1-32 767 min |
| Weight: | | 4,2 kg |