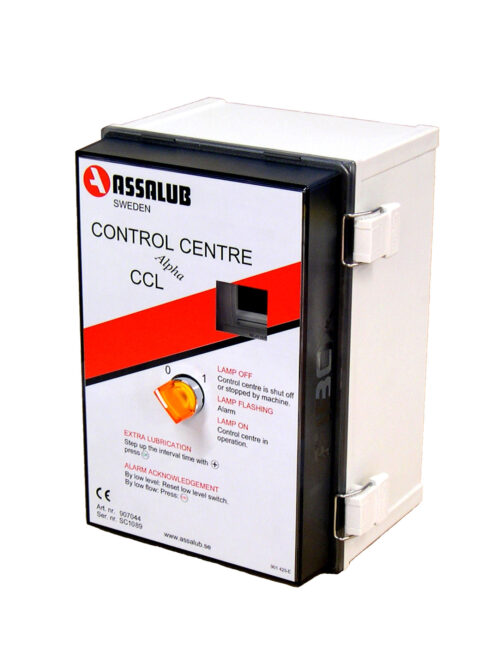 Products
Control unit, CCL Alpha
art.nr: 906716
Control unit CCL Alpha is designed for controlling and monitoring of centralised lubrication systems when equipped with a primary progressive feeder which incorporates a cycle switch. It also monitors lubricant level and activates the start stop switch connected to the pump. The control also allows for automatic replenishment of the reservoir of the system pump from drum or storage tank.
Documentation
Description
Technical info
Functions:
Adjustable interval time and number of cycles.
Extra lubrication.
Machine-interlocking control.
Output for remote monitoring.
Output for alarm signal (activated at too low a flow rate or low lubricant level).
| | |
| --- | --- |
| Definitions: | |
| Lubrication interval: | Time between two pumping sequences |
| Cycle: | Complete operating cycle of the progressive distributors |
| Protection class: | IP 65 |
| Dimensions: | 230×300×145 (W×H×D) mm |
| Supply voltage: | 100-240 V AC, 50-60 Hz |
| Electrical current: | 1,1 A |
| Outputs: | Pump, solenoid valve: 100-240 V AC, max 25 W Operation indicator: 24 V DC, max 5 W Alarm: Volt free contact, max 250 V AC, 30 V DC, max 1 A |
| Inputs: | 24 V DC |
| Adjustment range: | Interval time 1-32 767 min Cycles 1-32 767 |
| Weight: | 3,5 kg |