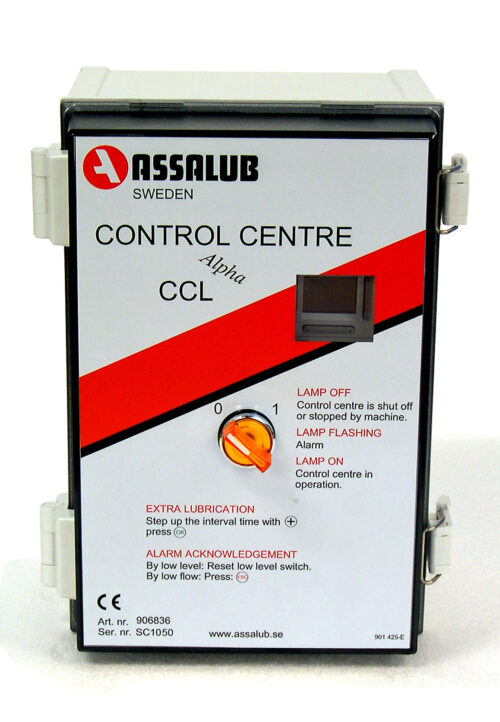 Products
Single line system for grease
art.nr: 906716
A simple, reliable, and economical lubrication system for grease, which consists of pumping equipment, control unit and progressive distributors. Due to the fact that the grease is discharged directly from the drum to the lubrication feed line, you will have a contamination-free system.
Advantages:
Safe operation.
Closed system no grease handling is required. The original manufacturer's drum is used.
Full system monitoring
Air operated grease pump.
Minimum of grease wastage.
Description
Technical info
The principle of the progressive system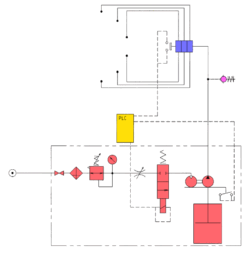 Pump Station
Comprising:
1:65 ratio grease pump, drum lid, follower plate, grease
filter, low level limit switch, air filter/regulator, flow rate
reducing valve, shut-off valves, hoses and air gun.
| Type: | Weight: | Part Number: |
| --- | --- | --- |
| For 1/1-drum | 26 kg | 101909 |
| For 1/4-drum | 20 kg | 101933 |
Control unit CCL Alpha
PLC-based control unit for lubrication systems.
Functons:
Intermittent operation with pre-set time intervals. Only lubricating when the machine is operating. Monitors correct operation and discharge of the system. Monitors and alarms faulty system operation and low lubricant level.
| | |
| --- | --- |
| Supply voltage control system: | 230 V AC |
| Supply voltage inputs: | 24 V DC |
| Power consumption: | 30 VA |
| Protection class: | IP 65 |
| Dim. W x H x D: | 230 x 300 x 145 mm |
| Weight: | 3,5 kg |
Progressive feeder type PFB or PFG/PFM
The progressive distributor dustributes equal amounts of grease via pistons in the block to each application point. Each point will receive, in turn, the correct amount of lubricant. Equipping the distributor with a cycle transducer which in turn is connected to the control unit, will monitor the operating function and alarm, in case of a malfunction.
| | |
| --- | --- |
| Lubricant: | Grease up to an NLGI 2 |
| Max pressure: | 20 MPa/2 900 psi |
| Max number of cycles per min: | 200 |
| Discharge per outlet and cycle: | 0,13 cm³ |
| Max temperature: | 160 °C |